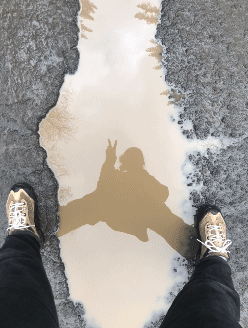 Seq May Walker is an American-Swedish artist who lives between two parts of Oregon: the city of Portland and the rural town of Selma. She is interested in the intersections between nature/technology and our era of the anthropocene. She likes to collect and use thrifted/reused physical or digital materials in combination with her own handshot footage from her daily life experiences. She grew up playing Neopets and learned to code HTML while tending to her virtual pets. She looks up to her family members who inspire her to keep creating.
My pack rat tendencies have amassed a heft of objects that I use as materials for my work. The collection is a burden and a pleasure. I go to my physical and digital junkyard in search of the right materials and emerge with tender scraps from here and there. The flow of time around these objects leaves pause as I imagine their future technofossils.
Neopets was a formative place for me as a child. Me and my siblings used to take turns playing on our home computer and I remember feeling a frenzied excitement at the possibilities that the internet opened up to me. This sense of excitement towards the internet had felt lost to me until I discovered the online NeoCities community. I decided to relive my childhood experience through coding and creating my own website which emerged out of necessity and out of my nostalgic joy towards early internet aesthetics. I have wondered how to bridge the gap of my interests in both nature and technology which are seemingly at odds. The sense of stewardship to the land emerges from what I have been taught by my grandma and Pa who reiterated in me the importance of care for our shared environment. I ask myself: how can I use my own abilities to show my respect and love for our earth while also connecting it to my own life experiences? This project sparked an opportunity for me to connect more deeply with my environment because this is my way of showing appreciation for the land through my practice.
During Covid, I started shooting hoops for fun around my neighborhood after watching the documentary The Last Dance about Michael Jordan and the Chicago Bulls. I've always been fascinated by Paul Pfeiffer's various series on sports and how he has deconstructed the sensationalized spectacle of sports in Western culture. I began to film my own moments of shooting hoops at different schools and parks around East Portland admiring the differences of each hoop and court. The idea to make my own game of basketball started as a silly daydream in which I imagined the possibilities that play allow. If the whole world is a basketball court then anyone can play basketball underwater with a school of Salmon. Any space can become a potential basketball course. Any animal a potential player in the game. To play this game of basketball is to be immersed in the moment of connection and collective experience with the world.
Squirrelling around on my computer in the late hours I assembled the digital components often in thought that one day they may be lost in the online ether someday in the future. This frees any sense of permanency and lifts that weight of their materials from my junkyard because now they have been utilized and cherished. This weight lifts from my own life and yet it still weighs upon the Earth with their ecological burden. I honor the digital and physical materials because of the weight of their burden.